After a sumptuous breakfast at Hotel Wallis, I took the A8 Autobahn straight to Salzburg. The drive was very exhilarating, as the Autobahns are quite well maintained. The traffic was however heavy and not too different from the Long Island Expressway in some ways. It's just that everybody was doing 160 kph instead of 110 kph on Long Island. It didn't take that long and we were in Salzburg within couple of hours. The interesting thing about Europe is that there aren't any borders to speak of. For example we weren't stopped anywhere on our trip from Munich (in Germany) to Salzburg (in Austria). It's like travelling from Delhi to Haryana. Another interesting thing is that at no point was our visa checked for example when we entered Paris by Eurostar or while travelling from Paris to Munch. Europe has almost truly become without borders and with the introduction of the Euro (the common European currency) the process shall be complete. No more shall I have to exchange my Francs to Deutsche Marks to Ost Marks to Lira! Salzburg is somewhat similar to Munich, in the sense it too has similar churches and an Alstadt or the old town (the concept is similar to the walled city that we have in older Indian towns). Here is a photo of a fountain close to the city center: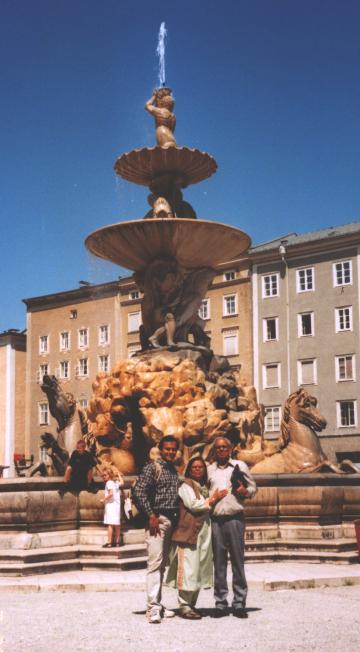 We took a walk along the Salazch river and to the Dom, which is another old basilica. It had a beautiful ceiling and it was free (they asked for a voluntary donation, for which my 2 DM was happily accepted). That way the continental Europe is so much cheaper in comparison to Britain, where entrance to the St. Pauls cathedral is about 10 GBP per person. Since there was still time, we went over to the Lake Herrenchiemsee (see photo below: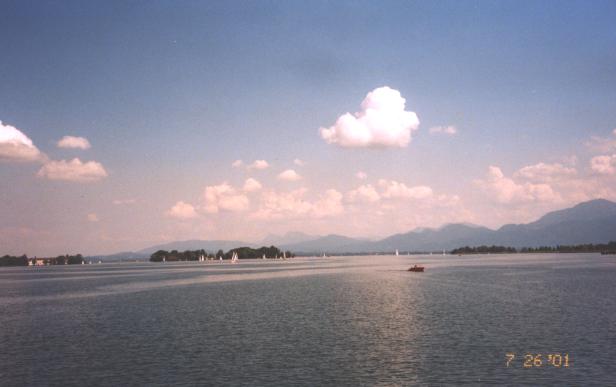 It's a huge lake set amidst the Alps... which could be seen in a distance. Later I read that it's the largest lake in Germany by volume and is consequently called the Bavarian Ocean. The ferry ride across the lake to the Herrenchiemsee palace was unforgettable, with the Alps in a distance and white sailboats dotting the blue lake. The palace could be reached by a horse drawn carriage. The palace itself couldn't be completed as Ludwig died. He had modelled it after the Versailles palace of Louis XIV, the Sun King, of whom he was a big fan. The fittings were quite opulent, with huge marble baths almost like swimming pools and fountains and gold leaf covered doors etc. After seeing all this opulence we weren't surprised to know that he'd probably been assassinated by dissatisfied subjects.